by Giorgia Scivola, AIPD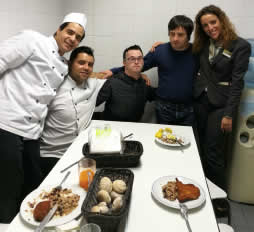 The Valueable Network is the European network of socially responsible companies of the hospitality sector coordinated by AIPD which promotes tools for offering equal opportunities. Melià Milano and Axis Hotel are two of its members.
Melià Milano, a hospitality business, hosted two Hungarian trainees, Agnes and Alexandra, for a three-week work experience in July 2018. As a Cook Assistant and a Waitress, they are very committed and passionate about their job. Staff and Management were really proud of them!
Lorenzo and Valerio – both from Italy – worked at Axis Porto for 3 weeks in February 2018: the first week as Housekeepers; the second week as Cook Assistantsand the third one taking care of some others hotel's needs.
The experience was tiring but also very rewarding for the two trainees (and their tutor), but also for the hotel. Axis Porto was already employing people with intellectual disabilities at work, but they never tried with people from abroad. The result is incredible!
309 total views, 3 views today