The activities of the PR.E.S.T.O. Project continue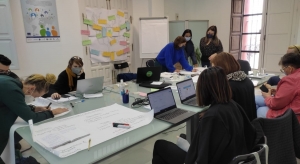 The staff met in Seville, at Incoma's headquarters. The Joint Staff Training Event was held face to face between 29th, 30th, 31st of March and was introduced with an online meeting on 18th of March, which all partners participated to. This preliminary online meeting gave everyone the possibility to know each other, share training course module, content, methodologies, and the agenda of each session. When in Seville, participants (3 trainers and 9 VET mobility project designer) had the possibility to work together face to face. During the meeting AIPD (expert partner in ID learner mobility) exposed the group what a VET operators must keep in mind when designing and preparing the mobility with Id Learners. During the other work session, AIPD, INCOMA and Cap Ulysse explained the group what operators should do along and after the mobility, as well as the financial arrangements when involving ID learners during mobility. Last day dealt with the monitoring and evaluation of mobility experience, Cap Ulysse shared with the group tools and methodologies for granting the mobility experiences a high-quality level and outcome.
The meeting days were very fruitful, the whole group actively participated in the proposed activities and a very good synergy was created.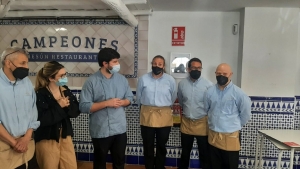 At the end of the meeting, all the participants went to lunch together at the "Campeones" restaurant, run by young people with Down's Syndrome, an excellent example of the application of what had been learnt during the meeting and, above all, the realisation of how applicable the PR.E.S.T.O. project is.
The partners are currently working to launch the experimental phase of the project. Mobilities are about to start, which will take place from July to December 2022. Everyone's work continues, and the next meeting is scheduled for 21 and 22 September in Italy.
707 total views, 1 views today
https://www.euprojectpresto.eu/wp-content/uploads/2022/04/Pic_newsletter_may_3.jpg
739
1313
Vittoria Valentina Di Gennaro
https://www.euprojectpresto.eu/wp-content/uploads/2021/09/logo-1.png
Vittoria Valentina Di Gennaro
2022-04-04 18:30:46
2022-06-03 17:26:15
The activities of the PR.E.S.T.O. Project continue